Scandinavian Twee, Yes Please.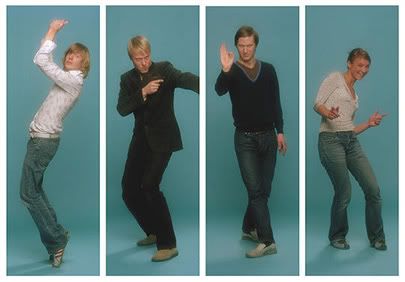 We're absolutely in love with Swedish imports: Hennes & Mauritz, Cheap Monday Jeans, and the gorgeous specimens, just to name a few. Last night, we went to
Cake Shop
, where our friends -
Crashin'In
Dj's Lio and Paulie spun between sets by Mixel Pixel, Ivy League, White Rabbit, and our Swede favorites The Legends and Acid House Kings. We could not pass up the opportunity to see Acid House Kings in their Scandinavian twee glory. They started their set with songs off of their 2005 album,
Sing Along with Acid House Kings
but we were extremely delighted when they played some of our favorite tracks from 2002's
Mondays are Like Tuesdays and Tuesdays are Like Wednesdays
; ending their set with my personal jam: Say Yes if You Love me. AHK's bassist, Johan is also the lead behind The Legends.
Up Against the Legends
was my summer 2004 soundtrack. They are touring in support of their new album,
Facts and Figures
out in September. With both Acid House Kings and The Legends you're never disappointed with their exuberant beats, extensive handclapping, and people singing along to their catalogue.
Thanks to our lovely friends at
Insound
, take a listen to AHK's
Do What You Wanna Do
and The Legend's
There and Back.