We all Need Good Shoes...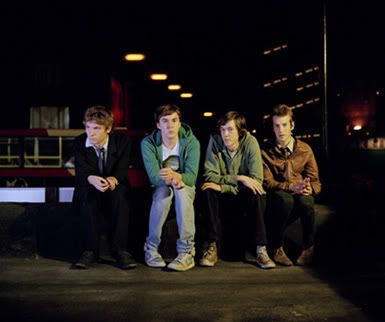 I haven't been in love with a band as much as I'm in love with
Good Shoes
in a long time [their website has great, fun graphics - drawings of SHOES! and BIRDS!]. I'm the first to admit that I have a fickle heart, but this charming foursome from Morden, UK make me want to get up and move around every chance I get. Their
myspace
page is one of the most consise band pages I've seen in a while too. It lists a plethora of links in addition to songs and their gig calendar. It's worth checking out their you tube account to watch some of their videos. All of the videos are visually stimulating and colorful.
I just wanted to highlight some of the reasons why they make me smile: (taken from their bio)

We are a band, we consist of 4 members, joel cox, rhys jones, steve leach and tom jones.
we play danceable, shed rehearsed guitar music. we like to dance, drink, draw, pretend to be on a mobile phone whilst we are not, write songs, dance.
We are based in morden.
Love them as much as I do. Download these tracks:
Never Meant to Hurt You
We Are Not the Same